After being on and off social media since 1997, sometimes I'm still shocked at its power.
---
I should have written about this on the 10th, but you'll be reading this on the 26th, 16 days after this happened.
ON Sunday, February 9th, I watched people on Twitter watch the Oscars. That's because 1) I didn't want to actually watch the very monochromatic Oscars and 2) it's more fun to watch people watch TV than to watch TV.
Still, despite the near whiteout conditions of the Oscar nominees, I was only rooting for two people: Matthew Cherry, whose film "Hair Love," was nominated for Best Animated Short film; and Parasite, a Korean film up for a few awards including Best International Feature Film and Best Picture.
Cherry won, which was lovely. And Parasite won four Oscars: Best Picture, Directing (by Bong Joon Ho), International Feature Film, and Writing (Original Screenplay).
My timeline was intensely ebullient with each win. Seemed like everyone was hoping against hope that Parasite would win Best Picture.
When Parasite did win, it was a Super Bowl type of synchronous excitement.
Here's a tweet that caught me off guard.
Variety as a publication has been around for eons and their Twitter page is usually quite sedate. They report entertainment news. The reports are not typically salacious. It's Variety.
So when this tweet came through, I lost it while everyone else was losing it. I couldn't believe how perfectly it captured youthful Twitter. It actually caused a friend who is also a 40-something to be a little perturbed, thinking it was xenophobic. That's because Bong's first language is Korean, not English, and he has an interpreter. They thought the gobbledygook was mocking him.
Nope, it was keyboard smash or keysmash — a way to express overwhelming feelings. It's what kids have been doing for a while now.
But it really wasn't JUST keysmash. There seems to be a random hashtag, #JK. It's not random at all.
JK stands for Jungkook (Jeon Jung-kook) who is a member of one of the hottest bands in the world, BTS, a kpop boy band.
And then there's "WE DID IT KIDS!!!!!!!!!!" Now this is more for old-school Twitter fans like me, but it was so old, I had forgotten!
This was in response to New York passing a marriage equality bill.
So, that all looks so random, as one person I saw called it the fault of a "drunk intern."
But social media actually does take work and skill.
You can read the replies to the Variety tweet because the kids were besides themselves with glee. And it got more traffic and engagement than I have ever seen!
The person responsible for this massive tweet was Meg Zukin, a writer and social media manager for Variety.
What Zukin did was take a complete departure from the typically informative, neutral, journalistic voice of Variety and transformed it into a Twitter voice. But then she went right back to tweeting normally. I haven't seen this type of tweet since.
What I love about it is that it captured the zeitgeisty joy of Parasite upsetting all these other Oscar nominees. The tweet threaded this liminal space that Variety could only occupy for one nanosecond. Everyone was drunk with happiness and Zukin decided to leave Variety's voice of impartiality and join in the revelry and be a little Twitter tipsy with this unprecedented moment.
No international film had ever won the Oscar for Best PIcture! And who knows when that will happen again!
So Zukin took advantage of that moment to possibly use her own voice which truly captured the moment, a very unexpected, deliriously happy moment. And this brought a lot of engagement and possibly new followers (I didn't check). I didn't see any other entertainment publication do this. It set Variety apart in a way that was memorable and touching without necessarily sacrificing their brand.
Granted it may have confused us older people. It took a few minutes to convince my friend that this was just a albeit calculated spur-of-the-moment tweet that had a youthful voice. I would even venture to say that it's Variety's more successful tweet.
---
So why am I telling you about this?
Because I want you to feel like you have permission to go off the rails from your brand/writing voice if the situation calls for it. Parasite winning Best Picture, amongst its other awards, was prime for a once-in-a-lifetime tweet because, as I said earlier, this years' Oscars sorely and embarrassingly lacked diversity. (They even had Janelle Monae sing about it.)
Capturing lightning in a bottle like that just takes some foresight and planning.
Especially if you have a more conservative (not politically) or mature voice, saying something seemingly off the cuff can be refreshing and pull in a new audience.
For Variety, they probably want as many eyeballs on their Twitter feed and website as possible, since most of us are interested in Hollywood on some level, whether it's music or the movies or television or even the theater. So pulling in a younger audience could be a future boon for them, even when they switch back to their normal brand voice.
This could work the opposite way, too. If you already have a youthful voice and something tragic happens, using a more mature or conservative voice could let your audience know that you care and that you're sensitive to what's going on — that this is not business as usual.
These moments are ones you can prepare for because no one knew that Parasite would win Best Picture. Play around with GIFs that capture exciting moments or practice writing more somber and serious messages for when tragedy strikes.
With twitter in particular, being observant of how people talk and what they talk about takes time. Otherwise, you may end up looking like this: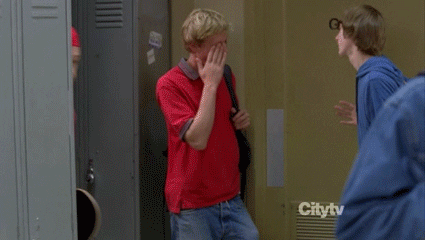 Variety avoided that faux pas by having someone youthful write for them in the first place. But you don't have to be a 20-something to break up the routine of your writing and social media to pleasantly surprise your audience. You just have to observe, experiment, and plan ahead.
---
Want to learn more about how I can help you create captivating content for your audience? Schedule a time to talk with me today.